So we have Democratic operatives "bird dogging" trump rallies, we have a fire bomb thrown into the Republican Party office in North Carolina and now bricks thrown through a Republican Party office in Delaware. That trump crowd sure is rowdy.  I mean it couldn't be anyone else could it?
Why is it those that speak of tolerance have the least and those that speak of the fear of violence create the most.
It is the left that will go to any lengths to win.  Legal or not.  Well mostly not.
Democrats have used trained provocateurs to instigate violence at Republican events nationwide throughout the 2016 election cycle, including at several Donald Trump rallies, using a tactic called "bird-dogging," according to a new video investigation released Monday by James O'Keefe's Project Veritas.
Delaware Republican Party Office Brick through the window.
Republican Party Office in North Carolina fire bombed.
---
Meanwhile, the Hillary bus is so full of shit, they are dumping it in the street.
Lawrenceville police are investigating a claim that involves a Democratic National Committee tour bus illegally dumping human waste in between campaign stops.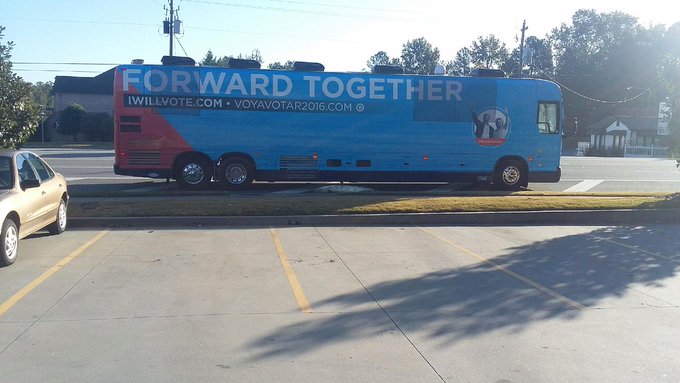 The incident occurred on Grayson Highway, Tuesday morning.
Police say when they arrived on the scene, toilet paper was scattered everywhere and there was a foul smell.
A Lawrenceville businessman took several photos of the tour bus dumping waste into the storm drain. You can see in the pictures, a liquid coming from the bottom of the bus.
According to the witness, a HAZMAT crew had to be called to the location.
CBS46 reached out to the DNC and they issued the following statement:
This was an honest mistake and we apologize to the Lawrenceville community for any harm we may have caused. We were unaware of any possible violations and have already taken corrective action with the charter bus company to prevent this from happening again. Furthermore, the DNC will work with the Georgia Department of Natural Resources, as well as local and state officials to determine the best course of corrective action.
Gwinnett County Storm Water is now involved in the investigation as well as the State Environment Protection Department.